If you're in the market for a new school bus security system, you've likely heard about cloud connectivity. Cloud connectivity has become a bit of a buzzword in the student transportation industry, but what does it really mean for your school district? And how can it help you achieve your safety and communications goals?
In this post, we decrypt cloud connectivity and explain some of its many benefits. We also explore how one of our safety partners is using cloud technology to protect student riders, and how you can too!
Sound interesting? Read on to learn more.
BusPatrol: A School Bus Safety Platform Powered by Cloud Connectivity
The BusPatrol 360° Student Safety Platform is a cloud-connected system. The Automated Violation Analysis system, which we call 'AVA', is the AI engine that facilitates automated enforcement efforts. AVA is one of the IoT devices powered by cloud connectivity, this includes hardware and software from BusPatrol, as well as our technology partners Samsung, AT&T, FirstNet, Zonar, BusPlanner, and Transfinder.
Through cloud connectivity, all BusPatrol technology is securely connected to our secure cloud server and can be managed remotely across the entire fleet.
Enforce School Bus Stopping Laws
BusPatrol's cloud-connected stop-arm enforcement solution supports law enforcement efforts and makes it easier to enforce school bus stopping laws.
There are 480,000 school buses in the U.S. and more than 4 million miles of road and highway. This means that it is difficult for police officers to always catch motorists in the act of passing a school bus while its stop-arm is down to issue a citation.
Automated enforcement powered by cloud connectivity can act as a supplementary police presence to prevent drivers from illegally passing school buses. However, the only way to effectively enforce school bus stopping laws is to equip every bus in the fleet with AI enforcement technology. This will ensure that you capture and enforce every stop-arm incident – not just the ones that happen to the buses that are equipped with cameras. To learn more about BusPatrol's full-fleet model, click here.
How it works
1. BusPatrol equips every bus in the fleet with AI-powered safety cameras and IoT devices.
2. Cloud-connected safety cameras are activated while the school bus is stopped.
3. Stop-arm violation data including GPS and telemetry information is sent via an encrypted LTE network to BusPatrol's secure cloud system.
4. BusPatrol AI software filters footage before it goes to a safety specialist for review in BusPatrol's secure cloud portal, AlertBus.
5. Trained reviewers quality asses video of each stop-arm event captured through AI.
6. Processors help prepare and submit evidence packages for law enforcement in AlertBus.
7. Law enforcement officials receive notification of new stop-arm incidents.
8. Police review the evidence package and determine if a violation occurred.
9. Approved notices of violations are issued by mail to the vehicle owner, including online and phone support. This is available in English, French, and Spanish to educate motorists and change driver behavior.
10. The driver makes payment online or at the designated municipal office. Almost all (98%) first-time violators do not receive a second ticket.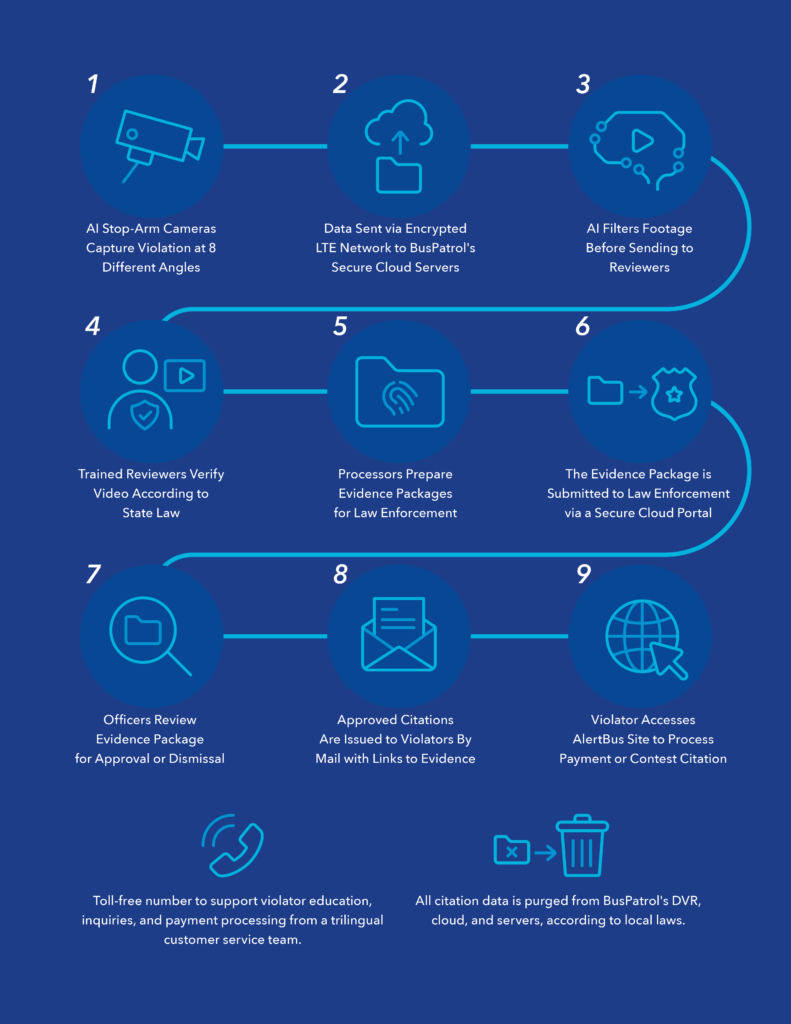 Integrate All Your Safety and Communication Tools Onto One Platform
Imagine you want to equip all the school buses in your district with technology. This could include stop-arm cameras, interior cameras, GPS vehicle tracking, 4G LTE connectivity, electronic verified inspection reporting, driver tablets, Wi-Fi, and whatever other safety features you want to add at no cost through the BusPatrol platform.
You could install and manage all these tools separately on individual buses. Or you could choose a cloud-connected system and manage all the features as part of one integrated platform. This could save you time and money, especially if you have a fleet of more than 100 buses.
Cloud connectivity enables you to equip every bus in the fleet in order to protect every child and collect accurate, measurable data.
Cloud-Managed 360° Safety Solution – Access Cameras at Any Time
BusPatrol's cloud-connected system brings the on-demand model to school bus surveillance. Student transportation departments can select which camera to view, from which day, and at which time. Gone are the days when student transportation department personnel would need to go to the bus and collect video from a hard drive. Now you can access this data remotely.
This doesn't only apply to incidents that have already happened. BusPatrol technology also allows schools to live stream and see what is happening on the bus in real-time, and communicate with students and the driver if necessary. This gives peace of mind to the bus driver, students, parents, and student transportation officials that you can be there, whatever happens.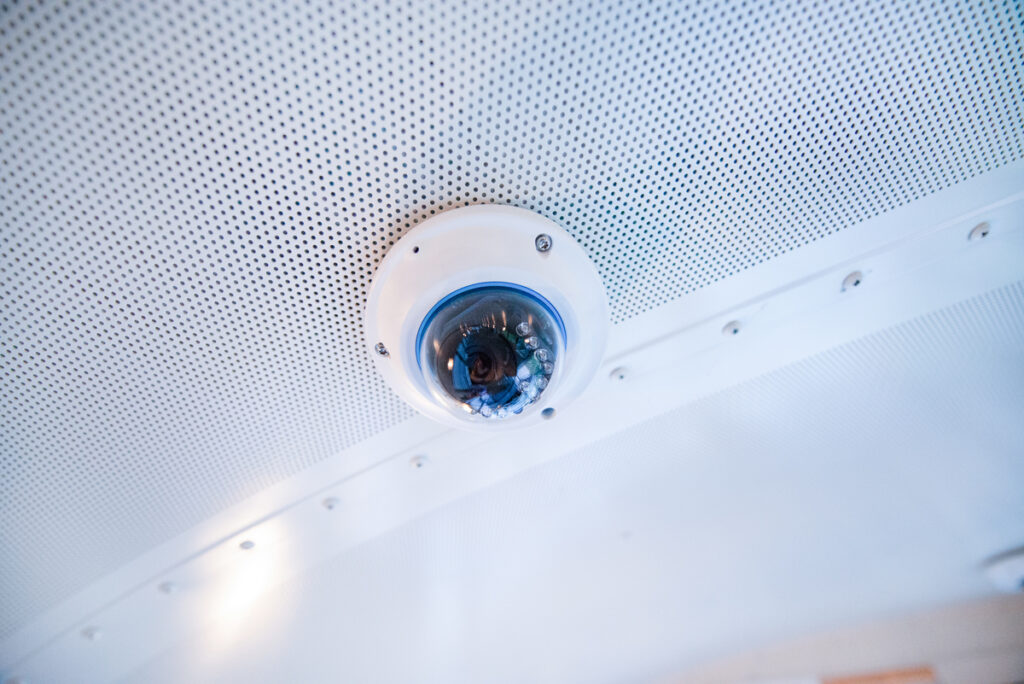 Collect, Store, and Learn from Data
At BusPatrol, we are a team of data geeks. We are constantly analyzing data to see what we can do to make the journey to and from school safer for children. And with a cloud-connected school bus camera system, you can too!
This data analysis is only possible when you equip every bus in the fleet. Full-fleet deployment means that you can collect a complete data set, and measure a change in behavior month over month, year over year.
FACT: If you want to capture accurate data that can be measured, you need to opt for full-fleet deployment. This is because buses regularly alternate routes.
Safety is about more than issuing tickets. School districts can leverage this data to make safer, smarter decisions, and act proactively before an incident happens. BusPatrol data can reveal when and where violations are most likely to happen, and student transportation personnel can use this information for route planning and execution.
As well as this, student transportation departments can access the BusPatrol data dashboard anywhere, anytime. Whether you're working from home or at the office. With a cloud-connected system, data is automatically sent and stored on the cloud.
Monitor 'Platform Health' with a Cloud-Connected School Bus Security System
BusPatrol has a dedicated team of certified field service technicians who are always on-hand to respond to any platform health issues. These field service technicians are constantly quality assessing the technology across the fleet, to ensure optimum platform health for all of our safety partners. In the rare case that any IoT device goes offline, our field service team will be notified and dispatched for prompt maintenance and support.
Comment From Our Technology Partner: Zonar
"Despite the fact that students are safer riding to and from school on a bus, we are still at the mercy of drivers who violate the law. That's why BusPatrol's partnership is so important to Zonar, school districts, and communities," said H. Kevin Mest, senior vice president of passenger services at Zonar. "Together, we provide a full suite of cloud-connected solutions that includes smart fleet management, fleet health, student visibility, and full stop-arm enforcement to reduce illegal passing, better ensure student safety and give parents and school officials peace of mind."
Looking to improve safety and efficiency in your school district?
Contact a BusPatrol safety specialist today!