Westchester Wins!
After months of debate and a concerted effort led by parents and advocates, the Westchester County Board of Legislators voted to approve legislation that authorizes the creation of a school bus stop-arm camera safety program. Now that a law is enacted, the next step is for the County to select a preferred vendor to operate the program prior to implementation.
Westchester County will be authorized to enter into agreements with school districts for the installation, maintenance and use of school bus photo violation monitoring systems. Each school district located within the County that would like to utilize the program shall enter into an agreement with the County. Once a school district has entered into an agreement with the County, cameras will be installed to the external portion of school buses owned or operated by that school district or privately owned and operated.
Stay tuned for more updates.
April 27, 2023: Operation Safe Stop, Jericho Schools

On April 27, BusPatrol participated in this year's Operation Safe Stop. The annual event is hosted by the New York Association for Pupil Transportation (NYAPT), BusPatrol, and the Jericho School District at Jericho High School on Long Island.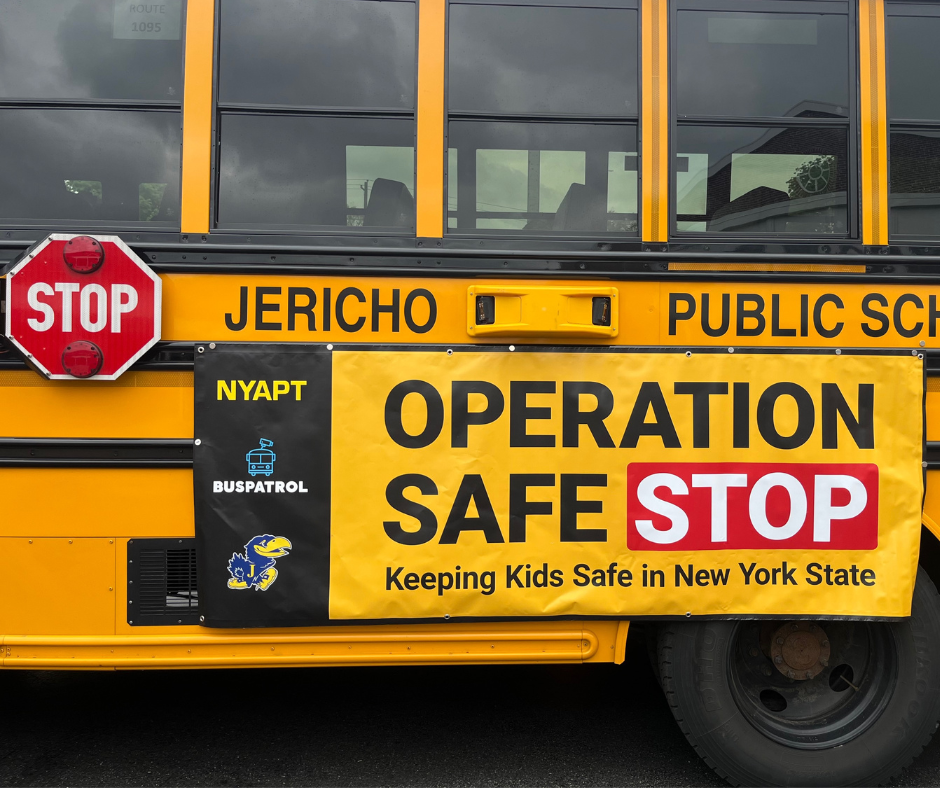 Operation Safe Stop saw law enforcement officers from around New York State come together to tackle the problem of the illegal passing of stopped school buses. Community stakeholders including government, school, and law enforcement officials discussed the proactive safety measures being taken to improve safety for local students.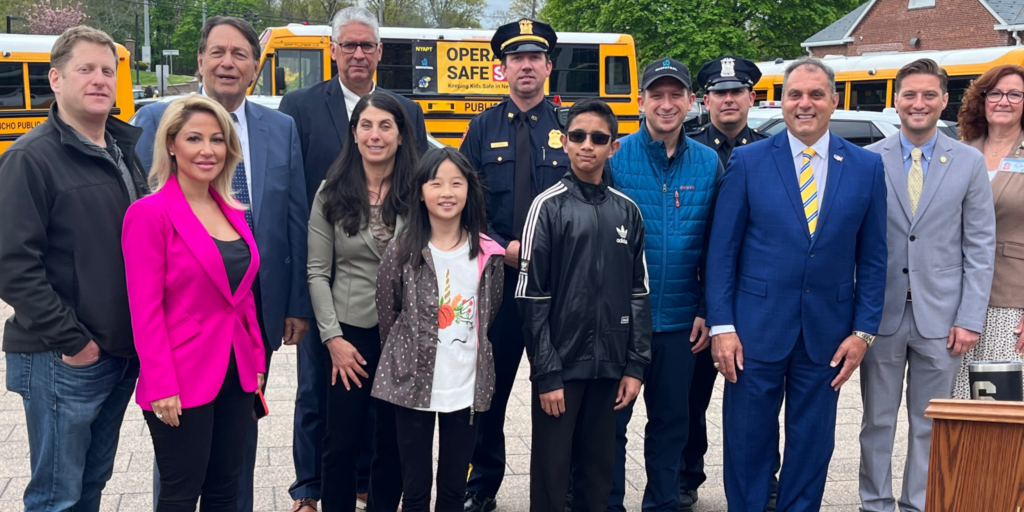 Speaking to attendees and participants, Steve Randazzo, Executive Vice President of Government Relations at BusPatrol, highlighted the importance of assisting law enforcement with the latest safety technology, namely BusPatrol's AI and school bus camera programs that deter violations and keep kids safe.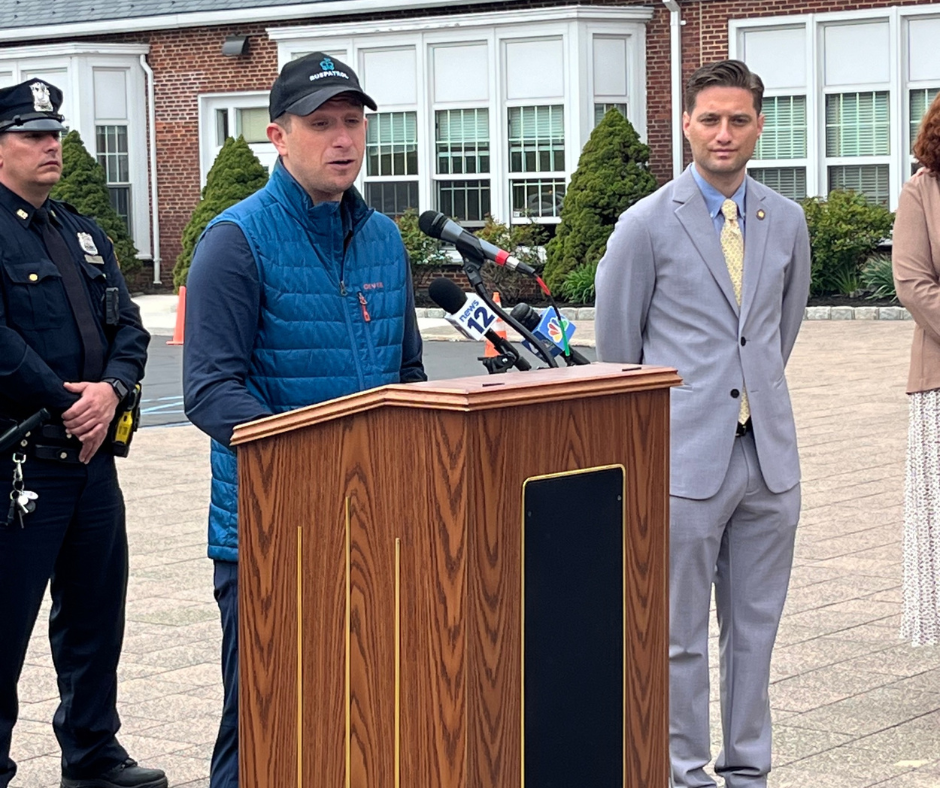 During his remarks, Steve spoke about the importance of thoughtful interventions and working collaboratively with all members of a community to ensure that we are doing what we can to improve kids' safety.
"Automated enforcement, when implemented thoughtfully and with community support, is a powerful tool to curb reckless driving behaviors and – ultimately – save lives."
Also in attendance were Hank Grishman, Superintendent of Schools, Jill Citron, Jericho Board Present, Dave Christopher, Executive Director of NYAPT, as well as students.
Students Rayan Hasan and Chrystal Zhou took to the podium and spoke to guests about how important it is for them to feel sage on their way to and from school, on the school bus.
Ryan and Chrystal also praised stop arm cameras as wonderful, modern tools that not only makes them feel safer but also works to curb dangerous driving habits.
Well done, young advocates!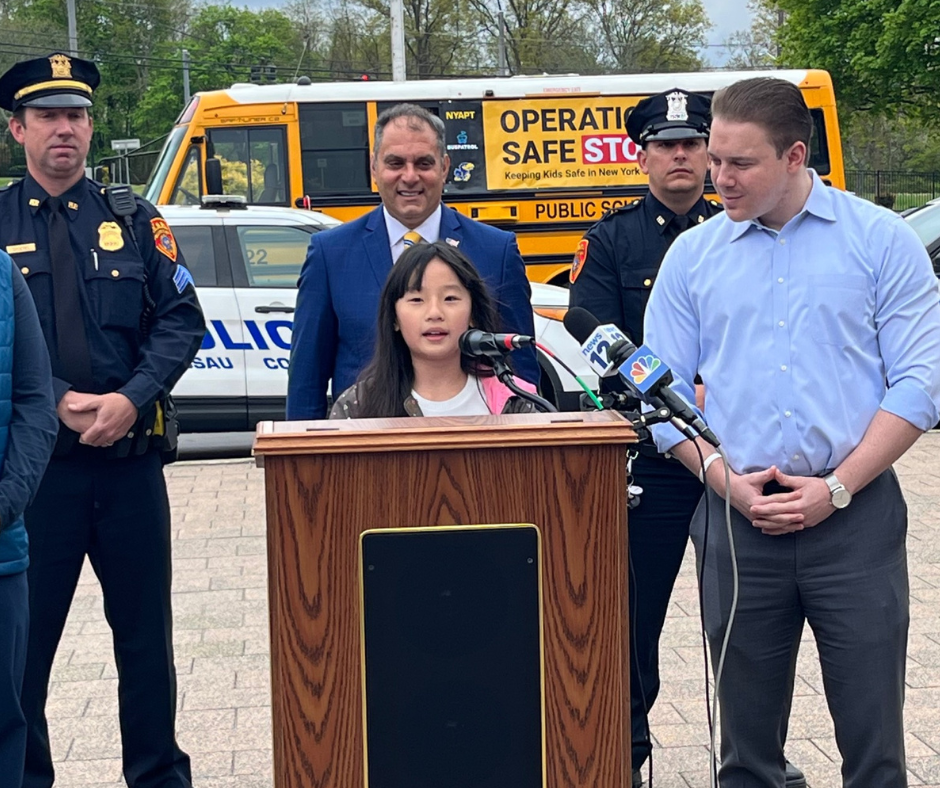 Operation Safe Stop is a public awareness event that started over two decades ago and occurs once ever year. A coalition of different organizations including NYAPT, New York State Governor's Traffic Safety Committee, the New York State Education Department, and the entire student transportation industry join forces annually with local law enforcement to identify and ticket motorists who illegally pass our stopped school buses putting our students in danger. Over the years, this event has emphasized the need to improve school bus safety legislation for our students.
School Bus Safety Summit
We are just days away from the first-ever New York State School Bus Safety Summit that will be held on Thursday, May 11 at the Mansion at Timber Point in Suffolk County.
Space is limited! With only a few remaining slots available, you can still reserve your spot at the Summit by registering here.
The Summit will provide school officials, state and local policy makers, educators, bus operators, and law enforcement with a forum to discuss best practices around school bus safety with a focus on utilizing automated, photo-enforcement solutions.