Ever wondered what it's like to work at BusPatrol?
At BusPatrol we have one mission; to make the journey to and from school safer for children. This wouldn't be possible without our dedicated team of field service technicians that work to install and maintain BusPatrol's suite of safety technology on entire fleets of school buses across North America. These men and women are the backbone of BusPatrol. In this series, we meet some of our hardworking Field Service Technicians.
Yade C was working as an electrical apprentice in the construction industry when she heard about the opportunity to join BusPatrol as a technician. With a big family and lots of nieces and nephews, Yade was inspired by BusPatrol's mission to improve children's safety. She joined the team in January 2021 and was promoted to Team Lead after just five months. Read her story.
Introducing… Yade C
Name: Yade C
Job title: Field Service Team Lead
From: Baltimore, Maryland
BusPatrol journey: Started in January, promoted to Team Lead in May
Last job: Electrical Apprentice in construction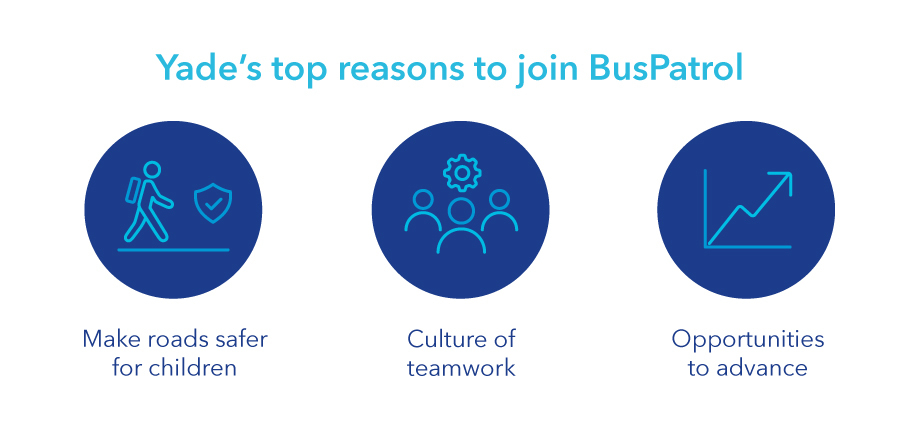 Yade was inspired to work at BusPatrol to improve safety for children
I joined BusPatrol because of the mission. I live in a city where kids take the MTA to school, not school buses. I don't have kids of my own, but I come from a big family – I'm the youngest of 12 children.
Bus safety is very important to me. I have nieces and nephews who take the bus to school. One of my nephews doesn't like taking the bus because he had a problem with the bus driver. I appreciate that we also have school bus cameras inside the bus to protect the students. It's not just about catching stop-arm runners, it's about protecting the children onboard the bus as well.
She started as a Technician and was promoted to Team Lead after just five months
I've been at BusPatrol since January of this year (2021). I became a Team Lead after five months. As a Team Lead, I manage about three to four people under me in the Virginia region and Maryland. I show them what the standards are at BusPatrol and try to uphold that. I take accountability for my team, for what they do, and also what I do. I like it. It gives me a certain amount of confidence in myself and also within the company.
Before working at BusPatrol, Yade was training to be an Electrician
Before I joined BusPatrol I was an Electrical Apprentice. I worked in construction, commercial, and residential. I have five years' experience, three of them were in school, and then two were in the field.
Her experience as an Electrical Apprentice has been useful at BusPatrol
The apprenticeship helped because at BusPatrol I still work with electronics. You have a panel on the house the same way you have the panel on the bus. The two jobs went hand in hand, so it was easy for me even though it's different. I can comprehend easier, especially with my training before.
The training at BusPatrol Academy means she feels ready to work in the field
The training at BusPatrol Academy is beneficial. It makes you feel at ease, especially when you go back home. To touch a bus that's running, you feel like you know it. The repetition from day one to day seven means it'll be instilled within you.
A culture of collaboration
When you join BusPatrol, it's like you're working for a family company. You come in not knowing anyone, but there's no one you would have a problem with. Everyone works well with each other.
Everyone helps everyone, whether it's Chris Kerr (Vice President of Field Operations) or the next person. Everyone works hand in hand. Chris Kerr helped me a lot. You see him in the field, even if he doesn't touch a tool, he can tell you exactly what to do. I appreciate that. It's not like there's a barrier between higher management and actual technicians. Even Kevin Hoffpaur (Senior Engineer) works hand in hand with us which I like.
Opportunities to earn more with overtime
Back home during the week, it follows the school schedule. We get on the bus lot around 9 am and then we head home around 5 pm. I guess it's similar to teachers. You stay a little bit after and things like that.
We have the weekends off so that's nice. But you also can choose to work weekends, overtime is always available. You always make as much time as you can, 40 hours if you need or even more.
Opportunities to travel
Traveling is pretty cool. For my electrical job, I did that too. But I do a little bit more with BusPatrol. I appreciate it because they pay for everything. They have a travel form for you to fill out. If you need a car, plane, hotel, or anything, they get that for you.
Opportunities to meet new people
I genuinely like the people, whether it's management, people at my level, the new hires, everyone. Whoever is in charge of hiring does a great job.
This field is mainly male dominant, but they don't treat me any different as a female. Everyone's treated equally.
Do you want to help build a safer future?
Explore careers at BusPatrol.