Ever wondered what it's like to join BusPatrol?
At BusPatrol we have one mission; to make the journey to and from school safer for children. This wouldn't be possible without our dedicated team of Field Service Technicians that work to install and maintain BusPatrol's suite of safety technology on entire fleets of school buses across North America. These men and women are the backbone of BusPatrol. In this series, we meet some of our hardworking Field Service Technicians.
Cameron W. joined BusPatrol in January and says the experience has been "magic" ever since. He has a four-year-old son who he video calls whenever he can and who loves to see the school bus. In this interview, Cameron explains why he feels so motivated by the BusPatrol mission to modernize school buses and build a safer future for children.
Introducing… Cameron W.
Name: Cameron W
Job title: Field service team lead
From: Connecticut
Last job: Low voltage and security systems
BusPatrol Journey: Joined BusPatrol in January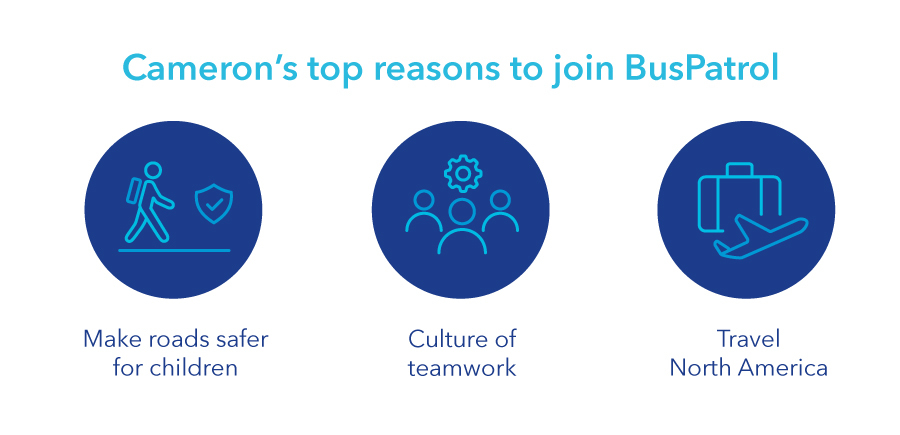 The pandemic led Cameron to use his skills to support an important cause
"My significant partner is a career counsellor and she helped me to find this job as a technician after I got laid off during COVID-19. It's been magic ever since!
"Before this, I was working for a subcontractor for the city of New York in Queens. I was working in low voltage and security systems. I was working on different MTA buses in different boroughs to upgrade their communication system. My last job prepared me to run and fish wires, and to install cameras and different mics on buses."
A culture of teamwork
"I like the culture here. I love it a lot. I'm 25 years old and this is the first job where I could say that I wake up happy and I go to bed happy. My colleagues are awesome. There are different people from Maryland, Virginia, down south, and everywhere.
"Everybody here wants to see everybody succeed. I like that nobody wants to fail. Everybody will bring you up if you're struggling and I like that.
"Doing the install is pretty simple when you join BusPatrol. You just have to focus and pay attention. If you're working with somebody, as long as you have a good partner and you have a good connection and you're in sync, then it's simple."
…With some healthy competition
"A lot of people would say Andrew and Hector (Field Service Technicians) are competitive. Right now, me and Tyler (Field Service Technician pictured below) are focused on racing them when we get on their bus. Our goal is to beat the best time on whatever bus we're on while still maintaining our standards of excellence.
"We would never miss anything. It's part of our job to make sure we don't leave anything on the bus. So even if I double-check the bus myself, Tyler will follow up behind me and double-check it as well. I might miss something so it's a good thing to have a good partner where he can check for you as well."
Travel North America when you join BusPatrol
"I'm looking forward to being deployed to different states to do different installs. I'll get to work with my own team and start doing these installs."
Cameron's four-year-old son is his motivation
"I have a four-year-old son Dominic. I do everything for him, he changed my life. He makes me smile, he's like my little twin!
"He will be starting kindergarten next year. I usually FaceTime him during breaks if he's not at school and he sees me install cameras. At his age, he likes to build things. It's a blessing to see him try to follow in my footsteps. I look forward to teaching him how to use tools and everything that he's interested in. It makes me happy to see him like what I do for work. Now I've joined BusPatrol, he loves seeing the school bus and he's excited to ride one when he gets older."
At BusPatrol Academy, technicians work with different bus types
"I like BusPatrol Academy. We get to work on different buses because not every bus lot has all these different kinds of buses. It's a good way to learn hands-on. This way, once you get to a certain lot when you work at BusPatrol that might have the C2s and the newer versions, you'll know what you're doing."
The safety mission inspired Cameron to join BusPatrol
"A big reason I wanted to join BusPatrol is to make sure kids get to school and home safe. I would love for my kids to be able to feel safe to get on a bus get to school and get back home safely."
Are you interested in joining the team?
Click here to see open opportunities at BusPatrol.